Curtin Mauritius has close to 2000 students currently enrolled and enjoys an Alumni of over 9500 students. It has a growing international student base with students from afar as South Africa, Botswana and Kenya. At Curtin Mauritius, we ensure our graduates are 'work-ready' by the time they graduate. This is achieved via close collaboration with our 100+ industry partners who provide a range of industry projects and internships opportunities to our students.
In partnership with Charles Telfair Campus
Curtin Mauritius is located on the Charles Telfair Campus, a subsidiary of the Eclosia Group.  Charles Telfair Campus has over 18 years of experience in the management and delivery of international tertiary education programmes.  In addition to operating Curtin Mauritius, Charles Telfair Campus manages a number of international programmes from South and North Metropolitan TAFE in Western Australia.  It also operates the Charles Telfair Institute which has its own diploma and degree awarding powers.
The Eclosia Group operates in six sectors: Food, Commerce, Logistics, Business Services, Education, and Hotels & Leisure.  The group expanded and operates in Africa and in the Indian Ocean region, mostly in Madagascar. With more than twenty companies under its wings, the group employs over 4000 people. Eclosia is in the Top 5 of the biggest Mauritian groups. True to its roots, the Eclosia group is engaged in promoting individual initiative and believes in the positive impact of entrepreneurship as a key for economic development, innovation, and social cohesion.
Curtin Mauritius is committed to producing graduates who demonstrate the graduate attributes. Students are presented with appropriate learning, teaching, and assessment experiences to enable them to develop and demonstrate the Curtin graduate attributes. The Curtin graduate attributes are explicitly communicated to staff and students in all course and unit documentation.
Curtin graduates demonstrate evidence, as appropriate to their disciplines, that they can:
 Apply discipline knowledge, principles and concepts;

 Think critically, creatively and reflectively;

 Access, evaluate and synthesise information;

 Communicate effectively;

 Use technologies appropriately;

 Utilise lifelong learning skills;

 Recognise and apply international perspectives;

 Demonstrate intercultural awareness and understanding; and

 Apply professional skills.
In addition, graduates of research degrees demonstrate the ability to create knowledge through research.
Teaching, learning and assessment of the Curtin graduate attributes is assured through the normal course approval and review processes, and the monitoring of student learning experiences through student evaluation mechanisms.
Students at Curtin Mauritius enjoy first-rate facilities, high caliber staff, innovative teaching methods and strong links with industry practitioners. By choosing Curtin Mauritius you can be confident you are obtaining a globally recognised education from a leading Australian institution.
Here are some of the reasons you should consider Curtin Mauritius:
Highly ranked: Curtin University is a leading Australian University and is ranked in the top 1% of universities worldwide (ARWU, 2020)

Industry focused: Curtin University is globally recognised for its strong connections with industry, high-impact research and wide range of innovative courses

Flexible entry: There are a wide range of pathway study options available if you do not meet the Curtin University entry requirements

Value for m​oney: At Curtin Mauritius, you will receive high quality teaching and support at an affordable cost
As a leading global university, we strive to research and educate in ways that address international issues and challenges.
If you join us as a student or staff member, you can expect to build life skills, join an international community and become part of a forward-thinking culture committed to sharing innovative ideas.
Our research has become increasingly prominent on the international stage, which has resulted in us being ranked in the top one per cent of universities worldwide in the Academic Ranking of World Universities 2020.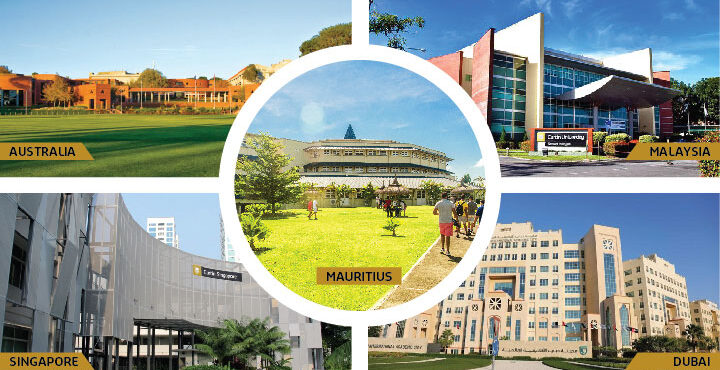 Our teaching is delivered to a high standard across all our locations. Our campuses in Australia, Dubai, Malaysia, Singapore and Mauritius are viewed as equally important, and we try to emphasise connections and collaborations as much as possible in our daily practices.
While our education has been focused in the Asia-Pacific Region, we are intending to expand our presence through strategic international partnerships, alliances and integrated campuses in the Middle East, the Indian Ocean Region and Africa, and build deeper relationships through our existing collaborations in Europe.
Curtin is WA's most preferred university and is globally recognised for its strong connections with industry, high-impact research and wide range of innovative courses.
Curtin is WA's most preferred university and is globally recognised for its strong connections with industry, high-impact research and wide range of innovative courses.
We're also ranked 22nd globally for universities under the age of 50 in the QS World University Rankings 2018 and received a five-star overall excellence rating in the QS Stars rating.
The 2018 Quality Indicators for Learning and Teaching (QILT) report also found that Curtin graduates with a postgraduate degree earned the highest salaries among their graduate peers in Western Australia.
When you join Curtin, you join an international family. Around a quarter of our students come from a country outside Australia, which adds a valuable dimension to your university experience, both in and out of the classroom.
This worldwide focus has resulted in Curtin being ranked one of the world's most international universities, and the second-most international university in Australia, in 2016 by Times Higher Education.
Graduate employment has become a major concern in today's economic environment and employers want work-place ready graduates.
Curtin Mauritius has embraced the challenge of developing career ready graduates by:
Providing Curtin Mauritius students with a number of industry experiences of increasing complexity through-out the duration of their studies

In addition to numerous in-curriculum activities, Curtin Mauritius works with its industry partners on developing the following  co-curricular Work Integrated Learning (WIL)  experiences for its students:
1) Industry events
2) Industry-based projects
3) Internships
4) Research assistance
What's in it for our students?
The experience is invaluable and plays an important role in their preparation for the work force. Through WIL activities within industry they:
Have the opportunity to apply the theory and skills they learn at university in a workplace

Experience corporate culture/ organisational behaviours

Test and showcase their graduate capabilities

Gain insights into potential job types that could interest them in the future

Develop networking opportunities for future employment